Top Quality, Verified Performance, Fast Project Turnaround, 24/7/365
Welcome to my adult website design portal. My name is Rick K, lead designer, concept artist and owner of Adult Oasis. Please allow me to greet you with my willingness for establishing channels of communication with all interested parties and offer my website design and SEO (search engine) optimization services.  
I've been involved in the world of adult web design since 2001 and in the web design business since 2003. Since then,  I've worked on many projects for prominent names in the industry (Ce Cash, ARS, Pimproll, Perfect Gonzo, Brazzers, Naughty America) always offering unique, professional, web design and brand optimization services with attractive solutions for our clients.
Catering to individual tastes and desires by offering up to date escort websites, tube hub designs as well as modern flash banners (banner samples here: 160×600, 200×960, 300×250, 950×300) and always fresh creatives that give your business model a fresh vision and an unified look.  So don't hesitate to contact me if you need something of the following created: tube skins, dating sites, whole site designs, classic short and contemporary vertical tour pages, gallery pages, landing pages and banners of all sorts, shapes, sizes and formats.
With the boom of the mobile market we're also doing highly specialized mobile versions of existing sites as well as migration of old pure-html sites to new and modern CSS solutions. 
Nowadays creating a modern, visually appealing and distinctive design when it comes to the thriving and expanding porn market is more important than ever. Lets face it, in today's business climate , people simply don't like "ugly" and unappealing websites, everyone is after the cutting edge, the eye-candy porn tube look and the perceptual bliss when it comes to the visage. This is where AdultOasis.com comes in. With over 12 years of experience in an ever growing and expanding market – our adult website design portfolio is here to back our accolade claims up.
We have evolved through every stage of the industry's growth, followed upon every market twitch and addressed every shift in the online behavior – always staying in sync with the industry's demands.
Currently, working with wide array of packages from the Adobe CS catalog and presenting the finished work in highly polished, well packed and optimized solutions, catering both to our client's demands (in regards to the CTR %, and visitor to sale ratio) but most importantly to the actual people that are greeted with our works, the site and gallery visitors and always trying to convert them in a recurring, bookmarking audience.
Located in Europe (Macedonia to be more specific) we're offering very flexible pricing terms with a fast turnaround, an always open channel of communication and willingness to fine tune every aspect to cater to your needs.
There is the possibility to establishing retainer type of relationships where for a set/fixed monthly arrangement we can always take up on your orders with priority status. Regarding payments, working with the usual: Paypal, Paxum, Payoneer, WU, Bank Wire etc.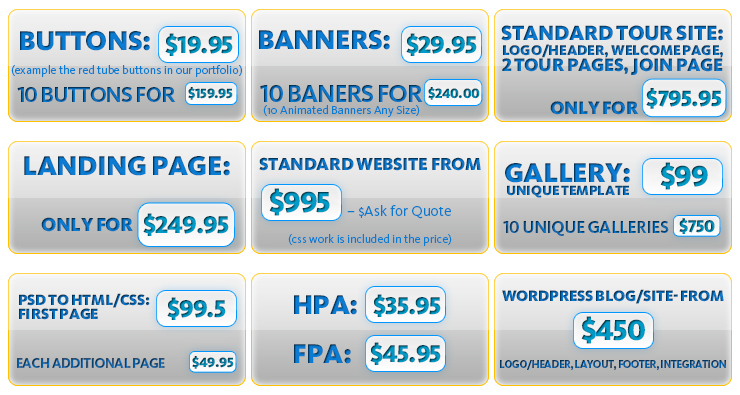 Premium Quality @ Affordable Pricing
A web design studio that cares!